Events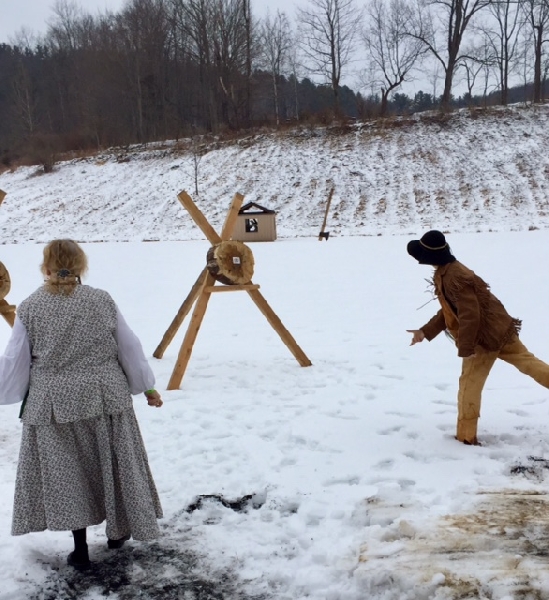 2020 Winter Frolic
Join us on Saturday, February 8, from 9-3 (shooting events 10-2) for a day of primitive winter activities with lots of shooting, tomahawk throwing and our famous 'Mountain Man' Novelty Target Shoot. Flintlock or percussion rifles with round balls ONLY (no in-lines). Nominal entry fee for Paper Shoot, Paper Pistol Shoot, Lucky X, 'Mountain Man' Novelty Shoot and Tomahawk Throwing Contests. Multiple entries permitted.
A 50-50 Raffle and a Silent Auction available with great primitive handcrafts and other prizes. Visit our Camp Store to get your EMPO hat, t-shirt and other items. Come chat with our resident clothing historians and maybe grab yourself some new gear.
Awards ceremony with raffle and competition winners announced.
Primitive attire not required, but encouraged and appreciated--additional points will be awarded for primitive attire.
Great food available all day from the American Legion, so come early, keep fueled, and stay all day!
We hope to see you there!
Spring Scholarship Shoot
A late spring day of shooting, throwing and fellowship: Sunday, June 7, 9-3 (shooting events 10-2). Join us for a day filled with fun challenges on the sharpshooter and pistol range, the turkey target shoot and the popular 'Mountain Man' novelty shoot. There's even a tomahawk throwing contest, too. Nominal entry fees.
This event directly benefits our Scholarship Fund, so come early and shoot often. Multiple registrations permitted. Prizes will be awarded at the completion of all events.
Annual Muzzleloader Rendezvous Black Powder Shoot & Artisan Show
On September 12 & 13, from 10-4 both days, join us for a weekend of primitive shooting and throwing events, and primitive crafts. (Shooting events 11-2).
The Rendezvous features black powder shooting, sharpshooter and pistol paper targets, a hawk and knife walk, a woods walk, primitive archery, trapping, fire starting and more. Camaraderie is easy and friendly under the commons tent and on the central green.
In between taking part in the fun, educational and exciting contests, visit our growing sutlers' row, with more artisans every year. Find great gifts, bid on our silent auction, or buy a little something for yourself--perhaps to add to your primitive gear! Sutlers/traders include knives, tomahawks, pipe hawks, powder horns, jewelry, muzzleloaders, gear accoutrements and accessories, blacksmiths, tanned hides, local history authors, and more. We also have fabulous raffle prizes to tempt you! Awards and winners announced at end of event, on Sunday. You need not be present to win.
A primitive camping area is available: pre-1840 lodges only. There is also a limited non-primitive area available for traders/sutlers only. We ask a $10 donation to camp in either area.
Sutlers/traders participating in the event may make a $20 donation to us for a 10 foot booth with table and chairs under our sutlers' tents. Sutlers are encouraged to dress in primitive pre-1840 attire. Pre-payment is required. Sutlers, contact Deb or Nick for details and to register (see Contacts on the homepage)
Great food available to purchase throughout the event, so mark your calendars now and join us! Nominal entry donation.